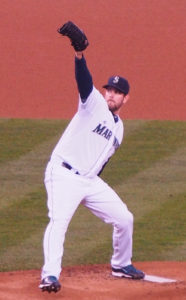 There will be eight Canadians who will start the 2019 Major League Baseball regular season on Major League Baseball rosters. The six Canadian natives are Toronto Blue Jays relief pitcher John Axford of Simcoe, Ontario, Los Angeles Dodgers catcher Russell Martin of Toronto, Ontario, Cincinnati Reds first baseman Joey Votto of Toronto, Ontario, New York Yankees starting pitcher James Paxton of Delta, British Columbia, St. Louis Cardinals outfielder Tyler O'Neill of Maple Ridge, British Columbia and Philadelphia Phillies starting pitcher Nick Pivetta of Victoria, British Columbia. The two Canadians who were born in the United States, but are Canadian because their parents were born in Canada are Atlanta Braves first baseman Freddie Freeman and Pittsburgh Pirates starting pitcher Jameson Taillon.
Votto was an all-star for a sixth time in 2019, and batted .284 with 12 home runs and 67 runs batted in. He also led the National League with a .417 on base percentage.
Like Votto, Freeman is considered one of the top first basemen in Major League Baseball. In 2018, he was an all-star for a third time and led the National League with 191 hits and 44 doubles.
Axford pitched 50 games last season with the Toronto Blue Jays and Los Angeles Dodgers. He had a record of four wins and one loss with an earned run average of 5.27.
Martin is rejoining the Dodgers after playing five years with Los Angeles to start his career from 2006-2010. Last season with the Blue Jays, he batted .194 with 10 home runs and 25 runs batted in.
Paxton had a great 2018 season with the Seattle Mariners. He pitched 160.333 innings and had a record of 11 wins and six losses. Paxton had an earned run average of 3.76 and had 208 strikeouts. He will be the Yankees no. 2 starter in their rotation behind Masahiro Tanaka.
Pivetta pitched 164 innings with the Phillies in 2018 and had a record of seven wins and 14 losses. He had 188 strikeouts and an earned run average of 4.77. Pivetta is the number three starter in the Phillies rotation behind Aaron Nola and Jake Arietta.
Taillon is the ace of the Pirates starting rotation. In 2018, he had a record of 14 wins, 10 losses, an earned run average of 3.20 and 179 strikeouts in 191 innings.
O'Neill is the fourth outfielder for the Cardinals. In 2018, he batted .254 with nine home runs and 23 runs batted in.