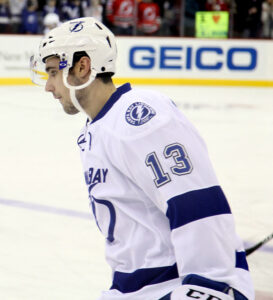 In a National Hockey League trade on Saturday, the Ottawa Senators have traded center Cedric Paquette of Gaspe, Quebec to the Carolina Hurricanes with left winger Alex Galchenyuk for left winger Ryan Dzingel. The Hurricanes become Paquette's third National Hockey League team. In addition to playing for the Senators, Paquette also has played for the Tampa Bay Lightning. While with Tampa Bay in 2020, he won the Stanley Cup.
Paquette struggled to produce like many Senators this season. In nine games he had one goal for one point, was a -8, with four penalty minutes, four shots on goal, 12 faceoff wins, eight blocked shots, 27 hits, and four takeaways. Paquette scored his lone goal for Ottawa in a 4-2 Senators loss to the Edmonton Oilers on February 2.
Dzingel rejoins Ottawa. He was previously with Senators from 2015 to 2019. In that time, he had 62 goals and 64 assists for 126 points. This season with the Hurricanes, Dzingel had two goals and two assists for four points in 11 games. Galchenyuk, meanwhile, had one goal and one point in eight games with the Senators.
There is no doubt it has been a tough season for the Senators. The team is in last place in the North Division with only three wins and seven points. Carolina meanwhile, is at 18 points (nine wins, and three losses), and is in a second-place tie in the Central Division with the Chicago Blackhawks, Florida Panthers, and Columbus Blue Jackets. The Lightning, Paquette's former team, leads the Central Division with 21 points.