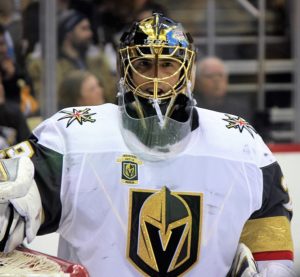 Marc Andre Fleury of Sorel, Quebec recorded his 63rd National Hockey League career shutout on Sunday. He made 30 saves in a 1-0 Golden Knights win over the Colorado Avalanche.
Fleury made nine saves in the first period, 11 saves in the second period, and 10 saves in the third period. Three Avalanche players led the team with four shots on goal each. They were Devon Toews of Abbotsford, British Columbia, captain Nathan MacKinnon of Springhill, Nova Scotia, and Ryan Graves of Yarmouth, Nova Scotia.
The Golden Knights scored their lone goal of the hockey game at 1:38 of the second period. Former Montreal Canadiens captain Max Pacioretty scored from defenseman Zach Whitecloud of Brandon, Manitoba.
With the shutout, the Golden Knights have an interesting goaltending situation on their hands. Heading into the season, the Golden Knights stated they intended to have a goaltending timeshare between Fleury and Robin Lehner.
Fleury has been great for the Golden Knights to date. He has a record of seven wins, and one regulation loss, with a goals against average of 1.38 and a save percentage of .944. Fleury's 1.38 goals against average and .938 save percentage also leads the NHL. This was also Fleury's second shutout this season. The first came in a 1-0 Golden Knights win over the Arizona Coyotes on January 24.
Lehner meanwhile has been steady for Vegas. He has a record of three wins, one regulation loss, and one loss in extra time, with a 2.96 goals against average, and a .890 save percentage.
The Golden Knights lead the West Division with a record of 10 wins, two regulation losses, and one loss in extra time for 21 points. They have one more point than the second-place St. Louis Blues.