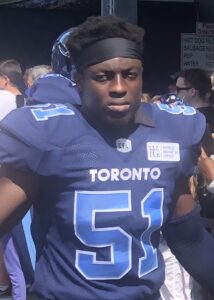 According to Tim Baines of the Ottawa Sun on Saturday, the Ottawa Redblacks have signed linebacker Micah Awe of Lagos, Nigeria. The Redblacks will become Awe's third Canadian Football League team as he previously played for the British Columbia Lions in 2017 and 2018, as well as the Toronto Argonauts in 2019.
In 2019, Awe had 44 defensive tackles, six special teams tackles, one sack, one interception, and one forced fumble. This was Awe's first sack, and first interception of his career. Awe recorded his sack in a 28-27 Argonauts upset win over the eventual Grey Cup champion Winnipeg Blue Bombers on August 1, 2019. At the time, Toronto had snapped a six-game losing streak.
In 35 CFL games, Awe, a product of Texas Tech, has had 129 defensive tackles, 25 special teams tackles, two forced fumbles, one sack, and one interception. The product of Texas Tech has the potential to be a significant asset for the Redblacks as he can play either weakside linebacker or middle linebacker.
Awe is the latest of Nigerian-born players currently in the CFL.  The list also includes Hamilton Tiger-Cats defensive back Tunde Adeleke, Saskatchewan Roughriders defensive back Mike Edem, Calgary Stampeders defensive back Royce Metchie, Lions linebacker Alex Ogbongbemiga, and Tiger-Cats offensive lineman Kay Okafor.