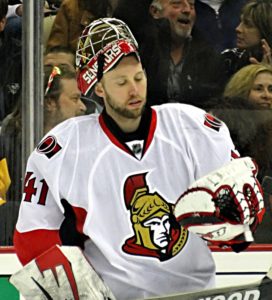 The National Hockey League celebrated their centennial anniversary on Saturday night at TD Place in Ottawa, the regular home of the Ottawa Redblacks of the Canadian Football League. On a night where the Ottawa Senators shutout the Montreal Canadiens 3-0 in the only outdoor game in Canada during the NHL's 2017-18 regular season, it was unfortunate the focus came off the ice rather than on it.
There is no question that there instability for the Ottawa Senators at the moment. The instability came to light during the Eastern Conference Finals when the Senators had trouble selling tickets at the Canadian Tire Centre. There is no doubt if the Toronto Maple Leafs or Montreal Canadiens were in the conference finals, they would have no problems selling seats at exorbitant prices. However on a weekend where the Senators franchise could have stayed completely positive, Senators owner Eugene Melnyk used the game as a platform to express his concerns about the Senators' overall state. He brought up the cringy topic of relocation on Friday, even though 33,959 were in attendance on Saturday.
The timing was just not right, and left the taste of many Senators fans quite sour. On the ice it has been abysmal for the Senators this year. At 29 points, they have the third least in the NHL.  However on one night in Ottawa this past Saturday, the Senators helped their fans go home happy as goaltender Craig Anderson made 28 saves for the shutout and the three goal Ottawa win.
The actual 100th anniversary for the National Hockey League will take place on Tuesday. On this historic afternoon, the Toronto Maple Leafs will host the Carolina Hurricanes at the Air Canada Centre. What is so special about this contest will be the game time of 2 p.m. Eastern–something that simply never happens in the NHL on a Tuesday.