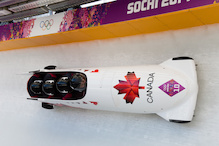 Justin Kripps of Summerland, British Columbia won two World Cup silver medals in Igls, Austria this weekend. Kripps won a silver medal with Jesse Lumsden of Edmonton, Alberta in the two-man World Cup on Saturday and then piloted the Canadian four-man sled to silver on Sunday. 
In the two-man, Kripps and Lumsden drove to a time of 1:43.98. Francesco Friedrich and Thorsten Margis of Germany won the gold medal with a time of 1:43.71. Clemens Bracher and Michael Kuonen of Switzerland won the bronze medal with a time 1:44.11.
Kripps and Lumsden reached the podium by 0.18 seconds. Johannes Lochner and Joshua Bluhm of Germany finished in fourth place with a time of 1:44.16.
Nick Poloniato of Hamilton, Ontario and Lascelles Brown of Calgary, Alberta, initially won the bronze medal, but were disqualified because of a narrow cowling. It would have been Poloniato's first World Cup bobsled medal.
Kripps is in first place in the World Cup two-man standings with 1014 points. He has 51 more points than Chris Spring of Calgary, Alberta, who is in second place with 963 points.
In the four-man, Kripps, Lumsden, Alexander Kopacz of London, Ontario and Oluseyi Smith of Calgary, Alberta posted a second place time of 1:42.60. German sleds driven by Lochner and Friedrich won the gold and bronze respectively with times of 1:42.45 and 1:42.65. The Canadian team earned a medal by 0.25 seconds. Latvia's Oskars Melbardis finished in fourth with a time of 1:42.85.
Kripps is in third place in the World Cup four man standings with 964 points. He is behind Lochner and German Nico Walther.