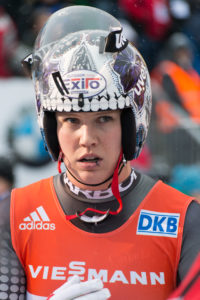 For the first time ever, Team Canada has won an Olympic medal in the sport of luge. On Friday, the Canadian team of Samuel Edney, Tristan Snith, Justin Walker and Alex Gough of Calgary, Alberta made Canadian sports history by winning the bronze medal in the mixed relay luge event from the 2014 Olympic Winter Games in Sochi. 
Team Canada earned the bronze when it was announced that Russia was disqualified for doping violations. The lugers who have been banned for life are Albert Demchenko and Tatiana Ivanova.
Germany won the gold medal with a time of 2:45.649. The German lugers were Natalie Geisenberger, Felix Loch, Tobias Wendl and Tobias Arlt. Latvia won the silver medal with a time of 2:47.295. The Latvian lugers were Eliza Tiruma, Martins Rubenis, Andris Sics and Juris Sics.
Canada won the Olympic bronze medal by 0.025 seconds. Italy finished in fourth place with a time of 2:47.42.
Team Canada has now won 26 medals at the 2014 Olympic Winter Games in Sochi. They are at 10 gold medals, 10 silver medals and six bronze medals. Edney, Snith, Walker and Gough are expected to contend for a medal for Canada at the 2018 Olympic Winter Games in Pyeongchang. They currently are in second place in the World Cup standings with 230 points.