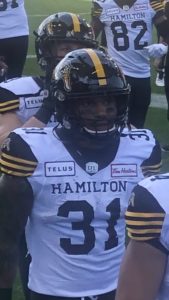 Sean Thomas-Erlington of Montreal, Quebec had an outstanding game offensively for the Hamilton Tiger-Cats in week three of the 2019 Canadian Football League regular season. The running back had five catches for 102 yards and a touchdown, to go along with 47 yards rushing as the Tiger-Cats beat the Alouettes 41-10 on Friday night from Hamilton. Thomas-Erlington's touchdown came in the second quarter on a 75 yard catch from Jeremiah Masoli which put Hamilton up 21-3 at the time.
Thomas-Erlington was one of four Canadians to get a touchdown in week three and help lead their team to victory. On Thursday, two Canadians had touchdowns as the Winnipeg Blue Bombers beat the Edmonton Eskimos 28-21. Wide receiver Nic Demski of Winnipeg, Manitoba had three rushing carries for 49 yards and one touchdown and one catch for nine yards. Demski's touchdown was a seven yard touchdown run which opened the scoring and gave Winnipeg a 7-0 first quarter lead. Meanwhile, Andrew Harris of Winnipeg, Manitoba had 10 rushing carries for 34 yards and two catches for 17 yards and a touchdown. Harris's touchdown was a five yard touchdown catch which put Winnipeg up 20-12 in the third quarter.
The third Canadian to get a week three touchdown was Cory Watson of Dollard Des Ormeaux, Quebec, who had two catches for 21 yards in a 32-7 Saskatchewan Roughriders win over the Toronto Argonauts on Canada Day. Watson's touchdown was an eight yard catch which put the Roughriders up 19-0 in the second quarter.
In other Argonauts news, running back Mercer Timmis of Burlington, Ontario has retired. Timmis had spent the last three seasons with the Tiger-Cats and joined the Argonauts in the offseason but did not play any games. He had 52 rushing carries for 231 yards and four touchdowns, along with seven catches for 59 yards in 36 games from 2016-2018. In other week three action, the Calgary Stampeders beat the British Columbia Lions 36-32.