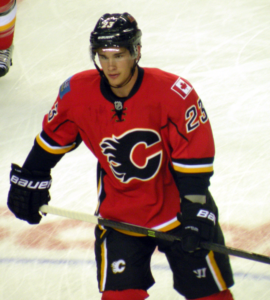 Sean Monahan of Brampton, Ontario led the Calgary Flames to a 6-2 win over the Winnipeg Jets in game three of the 2020 National Hockey League Stanley Cup playoff qualifier on Tuesday from Rogers Place in Edmonton, Alberta. With the win, the Flames lead the Jets two games to one in the best of five series.
In a dominant Flames performance, Monahan was one of two Canadians on the Flames with a multi-point game. The other was Andrew Mangiapane of Bolton, Ontario, who had two assists. Meanwhile, Milan Lucic of Vancouver, British Columbia, also scored for Calgary.
The Flames were one of three Canadian teams to win on Tuesday. The Toronto Maple Leafs evened their series with the Columbus Blue Jackets at one game apiece with a 3-0 win in Toronto, Ontario. Canadian Olympic gold medalist John Tavares of Mississauga, Ontario, and Morgan Reilly of Vancouver, British Columbia each scored for Toronto. Tavares won a gold medal for Canada at the 2014 Olympic Winter Games in Sochi.
Meanwhile, the Vancouver Canucks defeated the Minnesota Wild 4-3 to even their series at one game apiece in Edmonton. Canadians who scored on the Canucks were Tanner Pearson of Kitchener, Ontario, and Bo Horvat of London, Ontario. Horvat also had a multi-point game as he picked up an assist.
Two other Canadians who had a multi-point game on Tuesday were Jordan Eberle of Regina, Saskatchewan, and Ryan Johansen of Vancouver. Eberle had two goals for the New York Islanders and Johansen had one goal and one assist for two points with the Nashville Predators. The Predators beat the Arizona Coyotes 4-2 in Edmonton to tie their series at one game apiece, while the Islanders beat the Florida Panthers 4-2 in Toronto to take a 2-0 series lead.