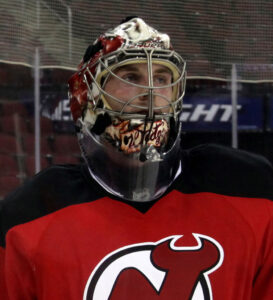 Scott Wedgewood of Brampton, Ontario collected his third National Hockey League shutout on Sunday. He made 28 saves as the New Jersey Devils blanked the New York Islanders 2-0 at the Prudential Center in Newark, New Jersey.
Wedgewood made 10 saves in the first period, six saves in the second period, and 12 saves in the third period. Jordan Eberle of Regina, Saskatchewan led the Islanders with six shots on goal.
Ty Smith of Lloydminster, Saskatchewan led the Devils in scoring with two points as he registered two assists. He helped the Devils get on the scoreboard by setting up goals by Pavel Zacha and Jack Hughes. It was also the first multi-point game of Smith's National Hockey League career, and sixth point in five games, impressive when you consider the fact he is a rookie defenseman.
Wedgewood's first NHL shutout came on March 24, 2016, in a 3-0 Devils win over the Pittsburgh Penguins. He then had 27 saves on December 2, 2017, in a 5-0 Arizona Coyotes win over the Devils.
Wedgewood was initially selected in the third round, 84th overall, by the Devils in the 2010 NHL Entry Draft. He was traded from the Devils to the Coyotes on October 28, 2017, for the Coyotes' fifth round draft pick in the 2018 NHL Entry Draft. The Devils selected goaltender Akira Schmid. Wedgewood then returned to the Devils on October 11, 2020, after spending time in the farm systems of the Los Angeles Kings, Buffalo Sabres, and Tampa Bay Lightning.
In 2020-21, Wedgewood has a record of one win, one loss, a goals against average of 2.00, and a save percentage of .937. With the win, the Devils improved to a record of three wins, one regulation loss, and one loss in extra time for seven points. They are in third place in the East Division.