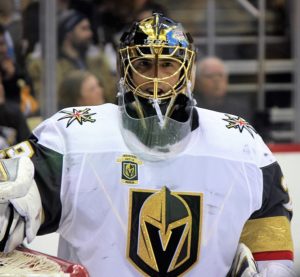 Heading into the season, many considered Marc-Andre Fleury of Sorel, Quebec would be the backup goaltender to Robin Lehner of Gothenburg, Sweden with the Vegas Golden Knights. However so far this season, Lehner and Fleury have had the exact same number of starts (three) over the first six games.
On Sunday, Fleury won his third game of the season, as the Golden Knights shutout the Arizona Coyotes 1-0 at the Gila River Arena in Glendale, Arizona. Fleury was not very busy throughout the game, as he only made four saves in the first period, seven saves in the second period, and five saves in the third period for 16 saves overall. Jakob Chychrun led the Coyotes with four shots on goal.
Offensively for the Golden Knights on Sunday, William Karlsson of Marsta, Sweden scored the lone goal with 43 seconds left in the third period. He scored from Jonathan Marchessault of Quebec City, Quebec, and Alex Tuch.
Fleury now has 18 shutouts with the Golden Knights and 44 shutouts with the Pittsburgh Penguins. This season he also has a goals against average of 1.00, and a save percentage of .951.
Fleury is also in a nine-way tie for the NHL lead in wins this season with three despite the time share. He is tied with San Jose Sharks goaltender Martin Jones of North Vancouver, British Columbia, St. Louis Blues goaltender Jordan Binnington of Richmond Hill, Ontario, Toronto Maple Leafs goaltender Frederik Andersen, Tampa Bay Lightning goaltender Andrei Vasilevskiy, Colorado Avalanche goaltender Philipp Grubauer, New York Islanders goaltender Semyon Varlamov, Edmonton Oilers goaltender Mikko Koskinen, and Winnipeg Jets goaltender Connor Hellebuyck.
Currently, the Golden Knights lead the West Division with a record of five wins and one loss for 10 points. They have a two-point lead on the second-place Minnesota Wild.