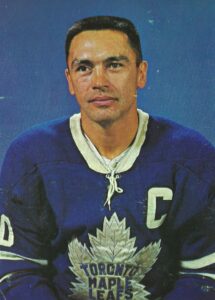 According to the Canadian Press on Sunday, Toronto Maple Leafs legend George Armstrong of Skead, Ontario has passed away at the age of 90. Armstrong played a franchise-record 1188 regular season games with the Maple Leafs from 1949 to 1971.
In 21 National Hockey League seasons, Armstrong, a right winger, had 296 goals and 417 assists for 713 points. He also had 726 penalty minutes, 162 power play points, 23 shorthanded points, and 43 game-winning goals.
Armstrong's finest regular season came in 1961-62. That year he had 21 goals and 32 assists for 53 points, and was a remarkable +48. Armstrong had career highs in goals and points, and had the second highest plus/minus in the NHL. Montreal Canadiens defenseman Lou Fontinato of Guelph, Ontario was a +55.
In the playoffs, Armstrong played in 110 games. He had 26 goals, 34 assists and 60 points. Armstrong also had 52 penalty minutes, eight power play goals, and three game-winning goals.
Also in the playoffs, Armstrong won four Stanley Cups with the Maple Leafs in 1962, 1963, 1964, and 1967. During that time, he led the National Hockey League in numerous statistical postseason categories. They included highest plus/minus (+10 in 1963 and +7 in 1964), six even strength goals in 1962, and three power play goals in 1964.
Armstrong was also the Maple Leafs captain from 1957 to 1969. He won more Stanley Cups with the Maple Leafs as their captain than any other Maple Leafs captain in franchise history. He also represented the Maple Leafs in seven NHL All-Star Games (1956, 1957, 1959, 1962, 1963, 1964, and 1968).
After his retirement, Armstrong coached the Maple Leafs during the 1988-89 season. He was inducted into the Hockey Hall of Fame in 1975, and had his number 10 retired by the Maple Leafs in 2016.