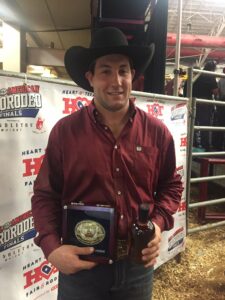 For the second straight day, Scott Guenthner of Provost, Alberta posted the best steer wrestling time at the Calgary Stampede. After posting a time of 3.3 seconds in Pool B action on Monday, he had a time of 3.4 seconds on Tuesday. Guenthner now has accumulated $14,000 worth of prize money in 48 hours.
Guenther's time on Tuesday was 0.4 seconds faster than Timmy Sparing of Helena, Montana, who had a second place time of 3.8 seconds. Ty Erickson of Helena and Tristan Martin of Sulphur, Louisiana tied for third place with 3.9 seconds.
In the saddle bronc, Canadians finished first through third. Layton Green of Millarville, Alberta had the best score of 87 points. Kolby Wanchuk of Sherwood Park, Alberta had the second best score of 86.5 points. Quinten Taylor of Nanton had the third best score of 85 points. After two rounds in Pool B action, four Canadians are first through fourth. Green leads with $11,500 to date. He is followed by Logan Hay of Wildwood, Alberta  ($7,000), Taylor ($6,500) and Wanchuk ($5500).
In the bull riding, Jared Parsonage of Maple Creek, Saskatchewan had the second best score of 83.5 points. Jordan Hansen of Amisk, Alberta had the third best score of 80.5 points. The only other cowboy who was not bucked off on Tuesday in the bull riding was Sage Steele Kimzey of Salado, Texas, who had a first place score of 87 points. Parsonage is the only Pool B cowboy to post a score in the first two rounds. He had a score of 78.5 points on Monday and has won $8750 to date. Coy Robbins of Camrose, Alberta was in second place in the Pool B standings with 85 points.
In the tie down roping, Clayton Smith of Eckville, Alberta had the third best time of 7.8 seconds. He was only behind Haven Meged of Miles City, Montana at seven seconds and Cash Enderli of Liberty, Texas at 7.6 seconds. In ladies barrel racing, Nancy Leischner of Olds, Alberta had the third best time of 17.65 seconds. She was only behind Taycie Matthews of Wynne, Arkansas at 17.58 seconds and Hailey Kinsel of Cotulla, Texas at 17.59 seconds.
In the Rangeland Derby chuckwagon racing event, Chanse Vigen of Calgary, Alberta had the best time of one minute, 10.42 seconds. He is also the aggregate leader at 5:57.45.