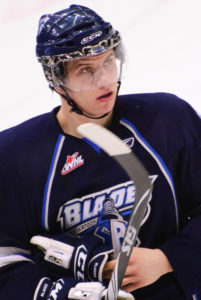 Brayden Schenn of Saskatoon, Saskatchewan led the St. Louis Blues in scoring on Thursday in their 3-2 playoff win over the Winnipeg Jets at Bell MTS Place in Winnipeg, Manitoba. With the win, the Blues take a 3-2 first round series lead in their best out of seven series.
Schenn recorded an assist on a power play goal by Ryan O'Reilly of Clinton, Ontario at 1:29 of the third period, which pulled the Blues to within a goal. David Perron of Sherbrooke, Quebec notched the other assist at the time as the Jets saw their lead shrink from 2-0 to 2-1. Then with 6:08 left in the hockey game, Schenn scored a controversial goal from Oskar Sundqvist and Canadian Olympic gold medalist Jay Bouwmeester of Edmonton, Alberta to tie the game at two. The reason why the goal was initially controversial is because there was a question mark if the net had come off its moorings before the puck went in the net. However, it was determined that Jets defenseman Dustin Byfuglien had pushed Sundqvist into Jets goaltender Connor Hellebuyck, which caused the net to come its moorings. Bouwmeester won a gold medal for Canada at the 2014 Olympic Winter Games in Sochi.  
In other action, the San Jose Sharks beat the Vegas Golden Knights 5-2. The Golden Knights still lead that series three games to two. Also, the Carolina Hurricanes beat the Washington Capitals 2-1 to tie their series at two.