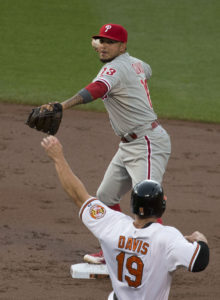 While the Toronto Blue Jays are in rebuilding mode in 2019, they need to be encouraged by the play of their shortstop, Freddy Galvis of Punto Fijo, Venezuela. After their first 20 games, Galvis is batting a solid .320 with five home runs and 11 runs batted in.
Galvis is in his first year with the Blue Jays after six years with the Philadelphia Phillies and one year with the San Diego Padres. There is no doubt he has solidified the Blue Jays middle infield with a veteran presence. Galvis leads the team in batting average, hits (24), home runs, total bases (43), and slugging percentage (.693).
Galvis is also one of four Blue Jays with one stolen base this season. The others are Teoscar Hernandez, Lourdes Gurriel Jr. and Eric Sogard. Gurriel Jr.'s stolen base was memorable as he stole home plate in a 7-5 win over the Boston Red Sox on April 9. Gurriel Jr. became the fourth Blue Jays player in franchise history to steal home. The others were Raul Mondesi, Aaron Hill and Kevin Pillar.
Even though the Blue Jays have a record of eight wins and 12 losses, they are still in contention for an American League wildcard. They are only three and a half games back of the Seattle Mariners and Texas Rangers.
The Blue Jays also have momentum. They just beat the Minnesota Twins for their first series victory of 2019. On Thursday, the Blue Jays got home runs from Teoscar Hernandez, Justin Smoak and Randal Grichuk, along with a key bases loaded double by Sogard in a 7-5 Toronto victory.