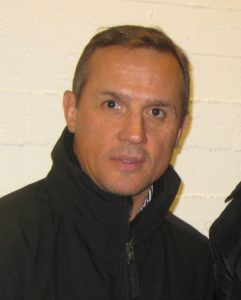 The Detroit Red Wings of the National Hockey League named Steve Yzerman of Cranbrook, British Columbia their general manager on Friday. The Red Wings become the second team that Yzerman has been the general manager for as he was Tampa Bay's general manager from 2010 to 2018.
Yzerman becomes the 11th Canadian Red Wings general manager in franchise history. Interestingly, every single Red Wings general manager has been Canadian. Yzerman follows Art Duncan of Sault Ste. Marie, Ontario (1926-27), Jack Adams of Fort William, Ontario (1927-1962), Sid Abel of Melville, Saskatchewan (1962-1971), Ned Harkness of Ottawa, Ontario (1971-1974), Jimmy Skinner of Selkirk, Manitoba (1973-1974 and 1980-1982), Alex Delvecchio of Fort William, Ontario (1974-1977), Ted Lindsay of Renfrew, Ontario (1976-1980), Jim Devellano of Toronto, Ontario (1982-1990 and 1994-1997), Bryan Murray of Shawville, Quebec (1990-1994) and Ken Holland of Vernon, British Columbia (1997-2019). Holland will stay with the Red Wings as their senior vice president.
Yzerman rejoins the Red Wings. He played 22 seasons with Detroit from 1983 to 2006. Yzerman had 692 goals and 1063 assists for 1755 points, Among the individual awards he won were the Lester B. Pearson Award in 1989, the Conn Smythe Trophy in 1998, the Selke Award in 2000 and the Bill Masterton Award in 2003. Yzerman won a Stanley Cup with the Red Wings in 1997, 1998 and 2002, played in nine NHL All-Star Games and was on the NHL's first all-star team in 2000.
Yzerman's gold medal came for Canada in men's hockey came at the 2002 Olympic Winter Games in Salt Lake City.He was also inducted into the Hockey Hall of Fame in 2009.