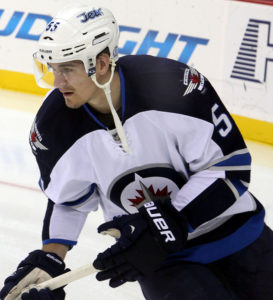 The Winnipeg Jets have a commanding three games to one lead over the Minnesota Wild in the first round of the 2018 National Hockey League Stanley Cup Playoffs. On Tuesday, the Jets beat the Wild 2-0 on two goals from Mark Scheifele of Kitchener, Ontario.
Scheifele scored his first goal with 28 seconds left in the first period from Josh Morrissey of Calgary, Alberta and Kyle Connor. It was Scheifele's first career postseason game winning goal. Then with 11 seconds left in the hockey game, Scheifele scored into an empty net with an important insurance goal from Blake Wheeler and Andrew Copp that put the Jets up 2-0. Connor Hellebuyck made 30 saves for the shutout.
The Jets meanwhile may not have Morrissey for a period of time through the rest of the series. Prior to Scheifele's first goal, Morrissey cross checked Wild star and Canadian Olympic gold medalist Eric Staal of Thunder Bay, Ontario in the head and it would be a major surprise if he did not get suspended. Remarkably, Morrissey was not even given a penalty on the play. Wild head coach Bruce Boudreau of Toronto, Ontario has every right to be furious that no penalty was given.
The series now shifts to Winnipeg for game five. That will take place on Friday.