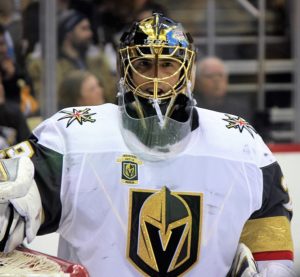 Canadian Olympic gold medalist Marc-Andre Fleury of Sorel, Quebec is continuing to help the Vegas Golden Knights with a magical first season in the National Hockey League. On Tuesday, Fleury made 31 saves as the Golden Knights beat the Los Angeles Kings 1-0 in game four of their first round playoff series. With the win, the Golden Knights swept the Kings four games to none in their best out of seven series.
Fleury, who won a gold medal for Canada at the 2010 Olympic Winter Games in Vancouver, made 14 saves in the first period, seven saves in the second period and 10 saves in the third period. Fleury also made 30 saves for the shutout in the opening game of the series in a 1-0 Golden Knights win last Wednesday.
The Los Angeles Kings gave up the fewest goals in the National Hockey League this season with 203. In the playoffs, the Kings only gave up seven goals, which was less than two per game. The Kings major problem was their horrible shooting percentage over the four games in the postseason. They had a shooting percentage of 2.3% as Fleury made 127 saves on 130 Kings shots.
The Golden Knights now await the winner of the San Jose Sharks and Anaheim Ducks in the second round. The Sharks currently lead the Ducks three games to none and have scored 18 goals in their first three games. It has been a great playoff so far for Logan Couture of Guelph, Ontario. Couture has two goals and three assists for five points in the first three games of the series.