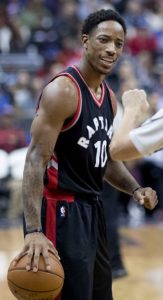 The Toronto Raptors are in command in the Eastern Conference quarterfinal matchup with the Washington Wizards in the first round of the 2018 NBA Playoffs. On Tuesday at the Air Canada Centre in Toronto, the Raptors got off to a fantastic start and held on to beat the Wizards 130-119 to take a two games to none lead.
DeMar DeRozan of Los Angeles, California led the Raptors offensive attack with 37 points. Meanwhile two Raptors recorded a double double. Jonas Valanciunas of Utena, Lithuania had 19 points and 14 rebounds and Kyle Lowry of Philadelphia, Pennsylvania had 13 points and 12 assists.
Three other Raptors finished in double digits in scoring. C.J. Miles of Dallas, Texas had 18 points, Delon Wright of Los Angeles had 11 points and Serge Ibaka of Brazzaville, Congo had 10 points.
The series now shifts to Washington for games three and four of the series. Game three will be Friday evening and game four will be on Sunday.
The Raptors won both of their games against the Wizards, and it is clear that the Wizards are a much better team with John Wall in the lineup. Wall had 29 points for Washington in game two and one would think the Wizards would have been a middle seed in the Eastern Conference playoffs if he would have been healthy all year.
There was another upset on Monday night. The New Orleans Pelicans beat the Portland Trail Blazers 111-102 to take a two to zero lead in the standings. The Pelicans won both of their games so far in the playoffs in Portland.