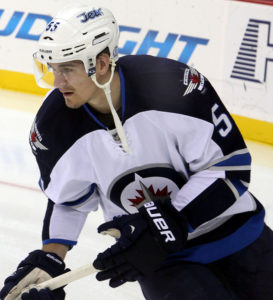 Mark Scheifele of Kitchener, Ontario is leading the 2018 National Hockey League Stanley Cup playoffs in goals with eight as of April 29. In the first two games of the 2018 Western Conference second round playoff series, Scheifele has four goals and one assist for five points as Scheifele's Winnipeg Jets are tied with the Nashville Predators at one game apiece.
In game one of the series, a 4-1 Jets win over the Predators on Friday, Scheifele scored twice. He scored the Jets's third goal with 2:09 left in the second period from Blake Wheeler and Kyle Connor and then scored with 36 seconds left in the third period from Wheeler to put the Jets up 4-1.
Then on Sunday, Scheifele had two goals and one assist for three points in game two of the series, a 5-4 Nashville win in double overtime. Scheifele's second goal of the hockey game came in dramatic fashion as it tied the game at four with only 1:05 left in the third period.
Scheifele had 23 goals in the regular season in 60 games. Now he has eight goals in the playoffs in only seven games. Scheifele has one more goal than Pittsburgh Penguins center Sidney Crosby of Cole Harbour, Nova Scotia, Penguins forward Jake Guentzel, and Washington Capitals left winger Alexander Ovechkin, who are tied for second with seven goals. Game three of the series is Tuesday in Winnipeg.