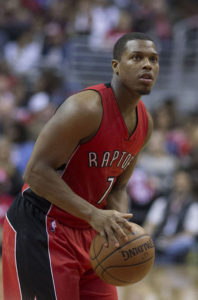 The Toronto Raptors will face the Cleveland Cavaliers in the Eastern Conference semifinals of the 2018 NBA Playoffs. On Friday, the Raptors beat the Washington Wizards 102-92 in game six of their best out of seven Eastern Conference quarterfinal series to win the series four games to two.
Kyle Lowry led the Raptors in scoring with 24 points. He also added six assists and six rebounds. There is no doubt that Lowry has had a better statline for a game in his career, but at age 32, there is no doubt that Lowry continues to have a huge impact for the Raptors at the point guard position and is vital to the team's overall success.
Three other Raptors players finished in double digits in scoring. DeMar DeRozan had 16 points, Jonas Valanciunas had 14 points and Pascal Siakam had 11 points. Valanciunas also had his third double double of the series as he collected 12 rebounds.
Speaking of having an impact, it was a strong game for Siakam, who was a game high +18. There is no doubt that Siakam has solidified the Raptors depth and has been a catalyst at the power forward position when starter Serge Ibaka needs to take a breather.
The Raptors will now play the Cleveland Cavaliers in the second round. The Cavaliers beat the Indiana Pacers 105-101 in game seven of their first round series. The Cavaliers got a huge performance from a Canadian in game seven. Tristan Thompson of Toronto, Ontario had a double double as he notched 15 points and 10 rebounds as the Cavs closed out the series.