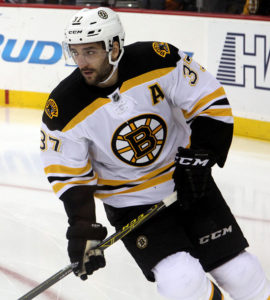 Canadian Olympic gold medalists Patrice Bergeron of L'Ancienne-Lorette, Quebec and Rick Nash of Brampton, Ontario each scored twice on Saturday for the Boston Bruins in their 6-2 win over the Tampa Bay Lightning at the Amalie Arena in Tampa, Florida. This was game one of the second round of the Eastern Conference playoff series. In addition to scoring two goals, Bergeron had an assist for three points.
Nash scored the game's opening goal at 17:11 of the first period on the power play from Bergeron and David Pastrnak to give Boston a 1-0 lead. Bergeron then scored at the 42 second mark of the second period from Brad Marchand of Halifax, Nova Scotia and Pastrnak to give Boston a 2-0 lead.
Nash then put the Bruins up 3-1 with a goal from Pastrnak and Krejci at 12:33 of the second period. It was Nash's fourth career game winning goal in the Stanley Cup Playoffs.
Then in the third period, Bergeron added insurance for the Bruins at 10:11 with his second goal of the game, which put Boston up 5-2. Marchand and Pastrnak once again picked up the assists.
The Marchand-Bergeron-Pastrnak line has been marvelous for the Bruins in the 2018 Stanley Cup Playoffs. The trio have combined for 12 goals and 29 assists for 41 points and all three are in the top five in NHL playoff scoring. Bergeron and Nash won a gold medal for Canada at the 2010 Olympic Winter Games in Vancouver and the 2014 Olympic Winter Games in Sochi.