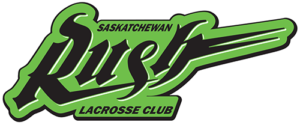 The Saskatchewan Rush have advanced to the 2018 National Lacrosse League Cup final. On Sunday at the Sasktel Centre in Saskatoon, Saskatchewan, the Rush beat the Calgary Roughnecks 15-13 in the West Division Final.
In Sunday's West Division Final, the Rush were led in scoring by Mark Matthews of Oshawa, Ontario. Matthews had two goals and five assists for seven points. Two Rush players also had hat tricks. The players with three goals were Robert Church and Ben McIntosh of Coquitlam, British Columbia.
Matthews meanwhile has the capability of winning his first National Lacrosse League most valuable player award. He led the NLL in scoring in 2017-18 with 116 points, and also led the NLL in assists with 84. If you take away Matthews's 32 goals this season, he still would have finished 13th in the NLL in scoring. Church also had an outstanding NLL season as he was second in the NLL with 107 points and was tied with Curtis Dickson of the Calgary Roughnecks for the NLL lead in goals with 47.
The Rush organization are now in their fourth consecutive National Lacrosse League championship final. The Edmonton Rush won the 2015 Champion's Cup before moving to Saskatoon for the 2016 season. In their first year in Saskatoon, the Rush beat the Buffalo Bandits to win the 2016 Champion's Cup before losing to the Georgia Swarm in the 2017 final. Interestingly, the Rush's 2018 opponent will be the Rochester Knighthawks, who beat the Swarm 9-8 in the East Division Final.
The Rush and Knighthawks begin their best out of three series on May 26 in Saskatoon. The series then shifts to Rochester the following week.