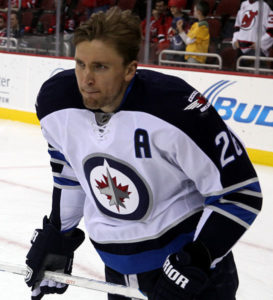 The Winnipeg Jets have won their first game ever played in the Western Conference Final of the Stanley Cup playoffs. On Saturday at the Bell MTS Place in Winnipeg, Manitoba, the Jets defeated the Vegas Golden Knights 4-2. With the win, the Jets lead the best out of seven series 1-0.
Blake Wheeler led the Jets in scoring with three assists. Mark Scheifele of Kitchener, Ontario and Dustin Byfuglien also had multi-point games for the Jets as they each had one goal and one assist. The other Jets goal scorers were Patrik Laine and Joel Armia.
It was the first time in the history of the Golden Knights franchise that they lost game one of a best out of seven series. Vegas defeated the Los Angeles Kings 1-0 in the first game of the first round and then trounced the San Jose Sharks 7-0 in the first game of the second round. In fact, it is the first time the Golden Knights have trailed in a series in the Stanley Cup Playoffs.
Another team that starts with W also won their opening game of the conference finals. On Friday, the Washington Capitals beat the Tampa Bay Lightning 4-2 in the first game of the Eastern Conference Final from the state of Florida. Jay Beagle of Calgary, Alberta scored the game winning goal at 2:40 of the second period.