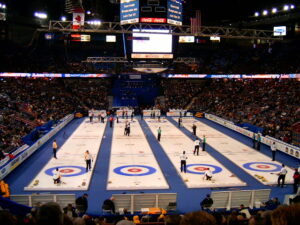 The field at the 2020 Tim Hortons Brier has dropped from 18 teams to eight. On Thursday, the top four teams from Pool A and Pool B were determined with no tie-breakers required.
In Pool A, the surprise leader was the third wildcard team skipped by Wayne Middaugh of Brampton, Ontario. The three-time World Champion, who finished with a record of seven wins and one loss, will be joined in the next round with Alberta's Brenda Bottcher, Northern Ontario's Brad Jacobs, and Manitoba's Jason Gunnlaugson. Bottcher was in second place at six wins and two losses, while Jacobs and Gunnlaugson were at five wins and three losses. Jacobs is an Olympic gold medalist, having finished first at the 2014 Olympic Winter Games in Sochi.
The fact that there is not a tie-breaker from Pool A is somewhat of a surprise. That is because on Thursday evening, the Northwest Territories stunned New Brunswick 10-6, and dropped New Brunswick back down to four losses, when they could have been at five wins and three losses.
In Pool B, Kevin Koe's second-ranked Wild Card team was in first place at seven wins and one loss. He was followed by Team Canada, Ontario, and Saskatchewan, who were at six wins and two losses. Canada was skipped by Brad Gushue of St. John's, Newfoundland, who won the gold medal for Canada at the 2006 Olympic Winter Games in Turin.