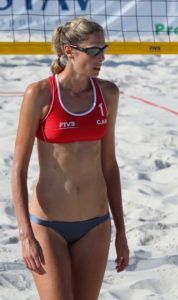 The Canadian women's beach volleyball team of Sarah Pavan of Kitchener, Ontario and Melissa Humana-Paredes of Toronto, Ontario have won their second straight game in the Olympic women's beach volleyball tournament. On Sunday evening in Canada, (Monday in Japan), Pavan and Humana-Paredes defeated Julia Sude and Karla Borger of Germany 21-17, 21-14. In the process, Canada has clinched a spot in the round of 16.
It was a key straight-set win for the Canadians, as they have not yet dropped a set in the Olympic tournament so far after two matches. They also defeated Katja Stam and Raisa Schoon of the Netherlands to begin the Tokyo Olympic tournament on Friday in Canada (Saturday in Japan) by a score of 21-16, 21-14.
In the Canadian win over Germany, Pavan's blocking skills were the difference. She had seven block points. The Germans meanwhile only had one block point. Pavan and Humana-Paredes will close out Pool A against Switzerland's Joana Heidrich and Anouk Verge-Depre on Wednesday at 7pm MT.
Meanwhile, the other Canadian team recorded their first win of the women's beach volleyball tournament on Monday. Heather Bansley of London, Ontario, and Brandie Wilkerson of Toronto, Ontario defeated Ana Maria Gallay and Fernanda Pereyra of Argentina 22-20, 21-12. In order for this Canadian team to make news in the Olympic tournament, they will need to do a better job with their serve. Bansley and Wilkerson combined for 15 service errors. Brazil is their next opponent on Thursday at 7 a.m. MT. Bansley and Wilkerson lost their opening match in three sets to China.