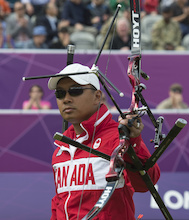 Crispin Duenas of Toronto, Ontario has got off to a great start in the men's individual Olympic archery tournament. On Monday in Canada (Tuesday in Japan), Duenas defeated Dan Olaru of Moldova 27-26, 28-27, 27-26 in the first round, and then Ruman Shana of Bangladesh 25-26, 28-25, 29-27, 26-27, 26-25 in a five-set thriller.
Duenas will next face Florian Kahllund of Germany in the round of 16. Seeded 16th in the field, Duenas will face a lower-ranked opponent in the next round, as Kahllund is ranked 33rd. Kahllund will have some momentum going for him, as in the second round, he upset the number one ranked archer in the field, Je-deok Kim of South Korea, 28-30, 27-27, 28-27, 27-26, 29-28. Kim has already won two gold medals in archery at the 2020 Olympic Games in Tokyo in the men's team and mixed team competitions. All three of South Korea's gold medals at the 2020 Olympic Games in Tokyo in 2021 have come in archery, as they also won gold in women's team archery.
Heading into the 2020 Olympic Games in 2021, Duenas's greatest accomplishment was winning a bronze medal in the individual recurve at the 2013 World Archery Championships in Belek, Turkey. He has also won two gold medals at the Pan American Games, and the 2018 Roma Archery Trophy, a prestigious indoor archery event in Italy.