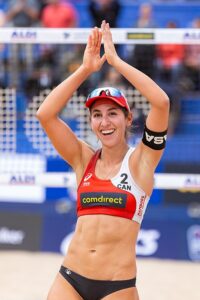 Melissa Humana-Paredes of Toronto, Ontario, and Sarah Pavan of Kitchener, Ontario have got off to a strong start at the 2021 Women's Beach Volleyball World Tour Finals in Cagliari and Sardinia, Italy on Wednesday.
Humana-Paredes and Pavan won their first two matches. They first beat Sanne Keizer and Madeleine Meppelink of the Netherlands 21-17, 25-23, and then the Brazilian duo of Agatha and Duda 21-18, 22-20. Agatha and Duda are ranked third in the world, while Keizer and Meppelink are ranked 10th in the world.
There are three women's teams undefeated in the tournament so far. The other two female teams at two wins and zero losses are Nadezda Makroguzova and Svetlana Kholomina of Russia, as well as Tanja Huberli and Nina Betschart of Switzerland. On the men's side, only one team is currently at two wins and zero losses. That is Ondrej Perusic and David Schweiner of the Czech Republic.
Humana-Paredes and Pavan are still ranked number one in the world despite being unable to medal at the 2020 Olympic Games in Tokyo in 2021. In the quarterfinals, Humana-Paredes and Pavan lost to the Australian duo of Taliqua Clancy and Mariafe Artacho del Solar 21-15, 19-21, 15-12 in the quarterfinals. Clancy and Artacho del Solar ended up being Olympic silver medalists, as they lost the gold medal match to Alix Klineman and April Ross 21-15, 21-16.