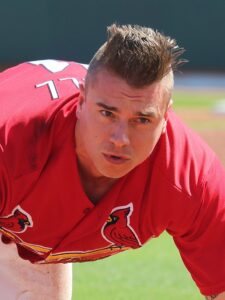 The Toronto Blue Jays did not qualify for the 2021 Major League Baseball playoffs, however there will be Canadian content in the postseason as four Canadians will be part of the action. They are Atlanta Braves first baseman Freddie Freeman, St. Louis Cardinals outfielder Tyler O'Neill of Maple Ridge, British Columbia, Boston Red Sox pitcher Nick Pivetta of Victoria, British Columbia, and New York Yankees pitcher Jameson Taillon.
In 2021, Freeman, whose both parents were from Ontario, and represents Canada internationally, led the National League in runs with 120 this season. He batted .300 with 31 home runs and 83 runs batted in, 180 hits, 25 doubles, two triples, eight stolen bases, 85 walks, a .393 on base percentage, .503 slugging percentage, 302 total bases, and two sacrifice flies.
This season O'Neill had a significant improvement offensively in 2021 compared to his awful 2020 season where he batted a terrible .173. In 2021, O'Neill batted .286 with 34 home runs and 80 runs batted in, 89 runs, 138 hits, 26 doubles, 15 stolen bases, 38 walks, a .352 on base percentage, .560 slugging percentage, 270 total bases, and four sacrifice flies.
In 30 games, Pivetta had a record of nine wins and eight losses for an earned run average of 4.53. In 155 innings pitched, he also had one save, 175 strikeouts, and gave up 137 hits, 78 earned runs, 65 walks and 24 home runs, along with a WHIP (walks and hits per innings pitched) of 1.30. Pivetta's save came on Sunday as the Red Sox beat the Washington Nationals 7-5. With the win, the Red Sox clinched a spot in the American League Wildcard game against the New York Yankees.
Speaking of the Yankees, Taillon, he had a record of eight wins and six losses with an earned run average of 4.30 in 29 games for New York in 2021. Like Freeman, Taillon is American born, but represents Canada internationally because his parents were born there. In 144 1/3 innings pitched, he had 140 strikeouts, and gave up 130 hits, 69 earned runs, 44 walks, 24 home runs, and a WHIP of 1.21.
The Red Sox play the Yankees in the American League wildcard game on Tuesday from Fenway Park. The Cardinals will play in Los Angeles in the National League wildcard game on Wednesday. Meanwhile, the Braves will play the Milwaukee Brewers in the National League Divisional Series starting Friday.