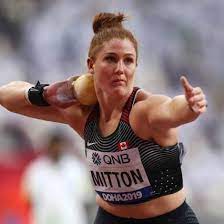 Sarah Mitton of Liverpool, Nova Scotia is a Diamond League champion for the very first time. On Thursday, she won the gold medal in the women's shot put at the 2023 Bislett Games in Oslo, Norway.
Mitton had a throw of 19.54 metres. She reached the podium by a tenth of a metre over Chase Ealey of the United States, who was in fourth place with a throw of 19.44 metres. Maggie Ewen of the United States won the silver medal with a throw of 19.52 metres. Daniel Thomas-Dodd of Jamaica won the bronze medal with a throw of 19.44 metres, the same distance to the hundredth of a metre as Ealey, and Auriol Dongmo of Portugal, who also had 19.44 metres, and finished in fifth place.
This was Mitton's fourth Diamond League medal. Last year she stood on the podium in three Diamond League events. Mitton won the silver medal in Stockholm, Sweden on June 30, 2022, a bronze medal in Chorzow, Poland on August 6, 2022, and a silver medal in Zurich, Switzerland on September 7, 2022. The silver medal in Zurich came in the Diamond League final.
The gold medal in Bislett will give Mitton confidence as she prepares for the 2024 Olympic Games in Paris. No Canadian woman has won an Olympic medal in the shot put. Only one Canadian man has accomplished the feat. That was Dylan Armstrong of Kamloops, British Columbia, who won the bronze medal in the men's shot put at the 2008 Olympic Games in Beijing.