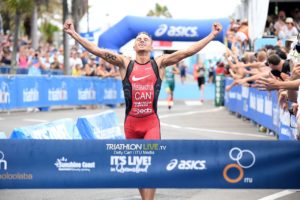 Tyler Mislawchuk of Winnipeg, Manitoba won a silver medal in a World Cup triathlon event in Huatulco, Mexico on Saturday. According to Chris Dornan of Triathlon Canada, this was fourth straight time that Mislawchuk won a medal in the men's event at the World Cup triathlon in Huatulco. He previously won the gold medals in 2019 and 2021, and the silver medal in 2022. Interestingly, since 2021, Mislawchuk's only three World Cup podiums have come in Huatulco.
Mislawchuk posted a second place time of 54 minutes and 14 seconds. David Castro Fajardo of Spain won the gold medal with a time of 54 minutes and 13 seconds. Aram Michell Penaflor Moysen of Mexico won the bronze medal with a time of 54 minutes and 17 seconds. Mislawchuk reached the podium by 11 seconds. Genis Grau of Spain finished in fourth place with a time of 54 minutes and 25 seconds.
During the race, Mislawchuk had a 750 metre swim time of eight minutes and 52 seconds. He had a 20 kilometre bike time of 29 minutes and seven seconds, and a five kilometre run time of 15 minutes and five seconds. Mislawchuk's total transition time was one minute and nine seconds, as it took him 52 seconds to get from the water to his bike, and 17 seconds to get ready for the run from the cycling part of the triathlon.
Mislawchuk is 47th in the world rankings with 1679.95 points. Leo Bergere of France leads with 6396.72 points. The silver medal for Mislawchuk will give him confidence as he prepares for the 2024 Olympic Games in Paris.