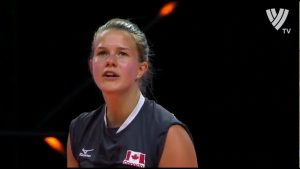 Team Canada is at the .500 mark after six games in the 2023 Women's Nations Volleyball League. On Wednesday night in Canada (Thursday in Hong Kong), Canada defeated Bulgaria 25-15, 25-13, 25-15. Due to the fact Canada won the match in four sets or less, they got the three full points for the victory.
Three Canadians reached double digits in points. Outside hitter Kiera Van Ryk of New Westminster, British Columbia had 15 points, outside hitter Hilary Howe of Calgary, Alberta had 13 points, and captain and outside hitter Alexa Gray of Lethbridge, Alberta had 11 points. Van Ryk had a team-high 12 attack points, two block points and one ace. Howe had nine attack points, three block points and one ace. Gray had nine attack points and a team-high two aces.
Howe was one of three players on Team Canada with three block points. The others were middle blocker Jazmine White of Oshawa, Ontario and setter Brie King of Langley, British Columbia.
With the win, Canada moves into eighth place in the preliminary round. The top eight teams of 16 (if the host United States finishes in the top eight) qualifies for the final round in Arlington, Texas from July 12-16. Canada has one more point than ninth place Italy.