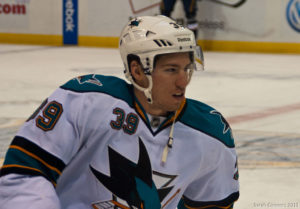 The San Jose Sharks have named Logan Couture of Guelph, Ontario their new team captain. In an announcement made on Thursday, Couture will take over Joe Pavelski, who signed with the Dallas Stars in the offseason.
Couture becomes the 11th captain in Sharks history. The first nine were also Canadians. They were current Sharks general manager Doug Wilson of Ottawa, Ontario (1991-1993), Bob Errey of Montreal, Quebec (1993-1995), Jeff Odgers of Spy Hill, Saskatchewan (1995-1996), Todd Gill of Brockville, Ontario (1996-1998), Owen Nolan of Thorold, Ontario (1998-2003), Vincent Damphousse of Montreal, Quebec (1999), Patrick Marleau of Swift Current, Saskatchewan (2003-2009), Rob Blake of Simcoe, Ontario (2009-2010) and Joe Thornton of London, Ontario (2010-2014).
Also on Thursday, the Sharks announced their four alternate captains. They are Thornton, Brent Burns of Barrie, Ontario, Erik Karlsson and Tomas Hertl.
Couture has spent the last 10 seasons with the Sharks. He has 240 goals and 267 assists for 507 points in 663 games. Last season with the Sharks, Couture had 27 goals and 43 points for 70 points. He was third in Sharks scoring behind Burns and Hertl. In 81 games, he was a -6, with 22 penalty minutes, 18 power play points, two shorthanded goals, three game winning goals, 204 shots on goal, 52 blocked shots, 65 hits and 282 faceoff wins. The Sharks begin their 2019-20 season in Vegas against the Golden Knights on October 2.