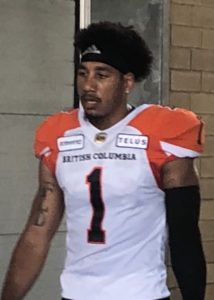 Lemar Durant of Vancouver, British Columbia continued his productive season with the British Columbia Lions on Friday in a 29-5 win over the Ottawa Redblacks. Durant caught four passes for 87 yards and a touchdown as the Lions won their second game of the 2019 Canadian Football League regular season.
Durant's touchdown opened the scoring less than three minutes into the football game and put the Lions up 7-0. It was a 52 yard touchdown reception from Lions quarterback Mike Reilly.
Durant, who is a product of Simon Fraser University, is in his first year with the Lions after signing with British Columbia from the Calgary Stampeders on February 12, 2019. Durant was with the Stampeders for the last four seasons.
Even though Durant was on some excellent teams in Calgary, he has put up career numbers on a bad Lions team. He has already had career highs in receptions (46), receiving yards (637) and touchdown catches (five). Durant leads the Lions in touchdown catches and is second on the team in receptions and receiving yards. Bryan Burnham leads the Lions with 64 receptions and 943 receiving yards.
The Lions were victorious in week 14, but it is unlikely they will make the 2019 CFL playoffs. They are currently eight points back of the fourth place Edmonton Eskimos, who at this time would crossover into the Eastern Division bracket.