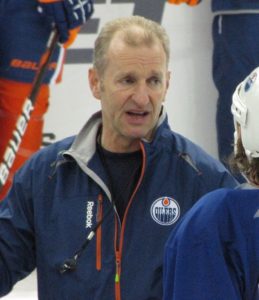 According to TSN on Thursday, Buffalo Sabres head coach Ralph Krueger of Winnipeg, Manitoba has tested positive for coronavirus. Krueger is in his third season coaching in the National Hockey League. He previously coached the Edmonton Oilers in the 2012-13 National Hockey League regular season, and then has been in charge of the Sabres over the last two seasons, as he was hired on May 15.
Due to a coronavirus outbreak among the Sabres, four Buffalo games have been postponed. They are not slated to play again until February 11 when they play the Washington Capitals.
So far this season, the Sabres are tied for fifth place in the East Division alongside the New York Rangers and New Jersey Devils. With a record of four wins, four regulation losses, and two losses in extra time, the Sabres have 10 points, and are one point back of the Pittsburgh Penguins for a playoff spot.
Over the last decade, Krueger did a wonderful job coaching Team Europe at the 2016 World Cup of Hockey in Toronto. The Europeans, which were comprised of the best players in Europe except for Finland, Sweden, the Czech Republic, and Russia, finished second in the tournament, after an impressive 3-0 win over the United States in Group A action, and a 3-2 win over Sweden in the semifinals.
Krueger also had a fantastic coaching moment at the 2006 Olympic Winter Games in Turin, Italy. Krueger was the mastermind for Team Switzerland in their 2-0 upset win over Canada in the preliminary round.
There have been 1,495,704 cases of coronavirus in the state of New York, and 44,588 deaths. There are also 879,220 active cases, while 571,896 people have recovered. There have been more people in New York who have died of coronavirus than any other state.