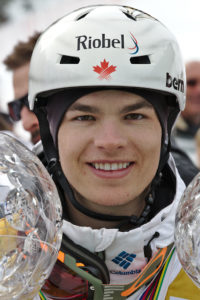 According to the Canadian Press on Thursday, Canadian Olympic gold medalist Mikael Kingsbury of Sainte-Agathe-des-Monts, Quebec won his 64th World Cup gold medal in men's moguls. Kingsbury placed first in a World Cup in Deer Valley, Utah, his first World Cup of the season. He missed the first two competitions in December in Finland and Sweden due to a vertebrae injury.
Kingsbury posted a winning score of 88.1 points. Ben Cavet of France won the silver medal with 86.25 points. Matt Graham of Australia won the bronze medal with 84.44 points. Kingsbury reached the podium by 6.82 points over fourth place finisher Ludvig Fjallstrom of Sweden, who had 80.5 points.
Kingsbury continued his success in Deer Valley with a dual moguls on Friday. He is now in sixth place in the World Cup men's moguls standings with 200 points. Graham leads with 289 points.
There will be one more World Cup moguls competition this season. That will be in Almaty, Kazakhstan on March 14. Almaty is also set to host the men's moguls competition for the 2021 World Freestyle Skiing and Snowboarding Championships on March 8. Kingsbury will be the favourite as he is the reigning Olympic champion from the 2018 Olympic Winter Games in Pyeongchang, and four-time world champion. Kingsbury is also a strong medal contender for Canada at the 2022 Olympic Winter Games in Beijing.