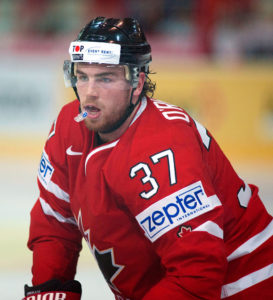 Ryan O'Reilly of Clinton, Ontario notched his fifth career National Hockey League hat trick on Saturday. He accomplished the feat in a 5-2 Nashville Predators win over the Edmonton Oilers at Rogers Place in Edmonton, Alberta.
O'Reilly's first goal came at the 21 second mark of the second period to put Nashville up 2-1. He scored from Filip Forsberg and Alexandre Carrier of Quebec City, Quebec. O'Reilly then put the Predators up 3-1 from Forsberg and Thomas Novak at 3:24 of the second period. This would be the game-winning goal. O'Reilly then closed out the scoring from Carrier and Gustav Nyquist at 8:22 of the third period.
O'Reilly and Carrier had multi-point games. O'Reilly had three goals and one assist for four points, while Carrier had two assists.
Three of O'Reilly's five prior hat tricks came with the St. Louis Blues. He accomplished the feat in a 4-1 Blues win over the Carolina Hurricanes on November 6, 2018, in a 9-1 Blues win over the Minnesota Wild on April 9, 2021, and in a 5-3 Blues win over the Carolina Avalanche on April 24, 2021. Earlier this year, O'Reilly had a hat trick in a 6-3 Toronto Maple Leafs win over the Buffalo Sabres. That came on Febuary 21.
In 2023-24, O'Reilly has seven goals and four assists for 11 points in 11 games. He is a -1 with two penalty minutes, five power-play points, one game-winning goal, 23 shots on goal, 118 faceoff wins, 10 blocked shots, eight hits, 13 takeaways, and three giveaways.
With the win, the Predators improve to a record of five wins and six losses for 10 points. They are one point back of the St. Louis Blues for a playoff spot in the Central Division.