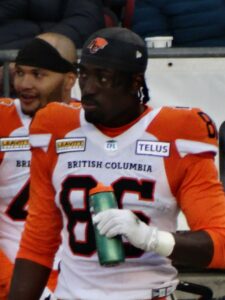 The divisional finals are set for the 2023 Canadian Football League Playoffs. The Winnipeg Blue Bombers will host the British Columbia Lions in the Western Final, and the Toronto Argonauts will host the Montreal Alouettes in the Eastern Final.
On Saturday, the divisional semifinals took place. The British Columbia Lions beat the Calgary Stampeders 41-30 at BC Place Stadium in Vancouver, British Columbia, and the Montreal Alouettes beat the Toronto Argonauts 27-12 at the Percival Molson Memorial Stadium in Montreal, Quebec.
In the Lions's win over the Stampeders, British Columbia Lions wide receiver Jevon Cottoy of Calgary, Alberta was the lone Canadian on BC to find the end zone as he had eight yard touchdown catch with four minutes and 27 seconds left in the first quarter. At the time, the Lions tied the game at seven. It was an exceptional game for Lions quarterback Vernon Adams Jr., who completed 28 of 39 passes for 413 passing yards, and two touchdowns, along with seven rushes for 54 rushing yards and three touchdowns. It was quite simply one of the greatest games of Adams Jr.'s career.
In the Alouettes's win over the Argonauts, another Calgary native found the end zone. Jake Harty had a 14-yard touchdown catch from Cody Fajardo with six minutes and 48 seconds left in the fourth quarter to put Montreal up 24-12. Harty finished the game with three catches for 31 yards.