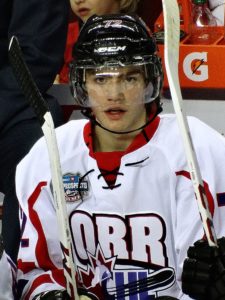 Brayden Point of Calgary, Alberta notched his second career National Hockey League hat trick on Saturday. He accomplished the feat in a 6-4 Tampa Bay Lightning win over the Ottawa Senators at the Canadian Tire Centre in Ottawa, Ontario.
Like Ryan O'Reilly, who had a hat trick for Nashville against Edmonton on Saturday, Point scored his first goal in the first minute of the second period. It came at the 32 second mark of the middle frame from Nikita Kucherov to put the Lightning up 2-1. Point then put the Lightning up 4-1 from Kucherov with one minute and 45 seconds left in the second period, and then scored the game-winning goal from Steven Stamkos of Markham, Ontario and Kucherov at 9:38 of the third period on the power-play to put the Lightning up 5-2.
In 2023-24, Point has five goals and nine assists for 14 points in 11 games. He is a -5 with two penalty minutes, six power-play points, three game-winning goals, 32 shots on goal, 54 faceoff wins, five blocked shots, one hit, three takeaways, and two giveaways.
Point's three game-winning goals lead the NHL alongside Mikko Rantanen of the Colorado Avalanche. In addition to the game-winner against the Senators, Point scored the game-winner for Tampa Bay in a 3-0 win over the Carolina Hurricanes on October 24 from Victor Hedman and Kucherov, and in a 6-0 Lightning win over the San Jose Sharks from Mikhail Sergachev and Nicklaus Perbix.
With the win, the Lightning improve to a record of five wins, three regulation losses and three losses in extra time for 13 points. They are in third place in the Atlantic Division.