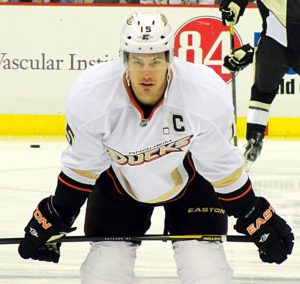 Canadian Olympic gold medalist Ryan Getzlaf of Regina, Saskatchewan played in his 1000th National Hockey League regular season game on Sunday. Getzlaf picked up an assist, had four shots on goal and won 10 faceoffs in a 3-2 Anaheim Ducks overtime loss to the Chicago Blackhawks at the Honda Center in Anaheim, California.
Getzlaf, who won a gold medal for Canada at the 2010 Olympic Winter Games in Vancouver and the 2014 Olympic Winter Games in Sochi, has played all 1000 games in his NHL career with the Ducks. In 15 NHL seasons, he has 268 goals and 666 assists for 934 points.
Getzlaf becomes the 339th player in NHL history to play 1000 games. So far this season, Getzlaf has been very productive. He leads the NHL with four game winning goals and has seven goals and four assists for 11 points. Getzlaf is also a +4 with 10 penalty minutes, two power play points, 41 shots on goal, 119 faceoff wins, 16 blocked shots, 20 hits, 13 takeaways and 22 giveaways.
Getzlaf's four game winning goals is tied for the most in the NHL with St. Louis Blues left winger David Perron of Sherbrooke, Quebec. Getzlaf's game winning goals came in a 3-1 Ducks win over the San Jose Sharks on October 5, in a 5-2 win over the Buffalo Sabres on October 16, in a 5-2 win over the Colorado Avalanche on October 26 and in a 2-1 win over the Vancouver Canucks on November 1.
The Ducks are currently tied for third place in the Pacific Division. With 19 points, they are tied with the Arizona Coyotes.