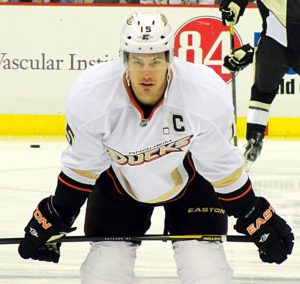 Canadian Olympic gold medalist Ryan Getzlaf of Regina, Saskatchewan became the Anaheim Ducks' all-time leader in points on Sunday according to ESPN. Getzlaf now has 989 points and passed Teemu Selanne, who had 988 points with the Ducks from 1995 to 2001 and from 2005 to 2014.
Getzlaf, who won the gold medal for Canada at the 2010 Olympic Winter Games in Vancouver and the 2014 Olympic Winter Games in Sochi, has all of his 989 career points with the Ducks. He made Ducks history on Sunday in a 4-2 Anaheim win over the Montreal Canadiens from the Honda Center. Getzlaf's record setting point came on an assist from a game-winning goal by Troy Terry at 10:10 of the third period to give the Ducks a 3-2 lead at the time.
Getzlaf now has seven assists this season for seven points. In his career, Getzlaf has 279 goals and 710 assists. His finest season with the Ducks came in 2008-09, when he had career highs in points (91) and assists (66). At the time, he was considered one of the top players in fantasy hockey as he also had 121 penalty minutes and 227 shots on goal. Getzlaf is also the Ducks all-time leader in games played (1111) and assists.
The Ducks are now at three wins, four losses, and three overtime losses for nine points. They are in fourth place in the National Hockey League's Pacific Division.