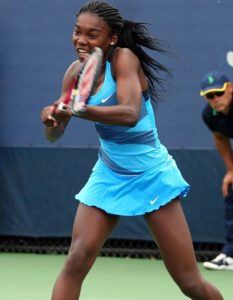 Canada has got off to a fantastic start at the 2021 Billie Jean King Cup in Prague, Czech Republic. On Monday, Francoise Abanda of Montreal, Quebec delivered a monumental upset with a 4-6, 6-4,  6-4 win over Fiona Ferro of France. With the win, and the 6-3, 7-6 win by Gabriela Dabrowski of Ottawa, Ontario and Rebecca Marino of Vancouver, British Columbia in women's doubles over Alize Cornet and Clara Burel, Canada won their first tie of the tournament to move into first place in Group A.
The fact that Canada beat France in Prague is mind-boggling. Abanda is 353rd in the world, and beat an opponent who was 248 places ahead of her in the women's tennis rankings. Canada was not even expected to be in the Billie Jean King Cup. They initially did not qualify for the 2021 Billie Jean King Cup, but were added to the list when Hungary pulled out because of concerns due to coronavirus. The tournament was initially to be held in Budapest, but was moved to Prague in August.
Even though Canada replaced Hungary, Canada's two top singles players, Bianca Andreescu of Mississauga, Ontario, and Leylah Annie Fernandez of Montreal, Quebec, decided not to participate. The fact that Canada is 1-0 with Marino and Abanda playing singles was not expected whatsoever.
Canada will now play Russia on Tuesday. With a win, Canada will reach the semifinals.