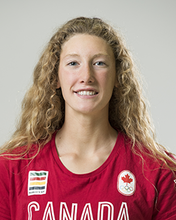 Taylor Ruck of Kelowna, British Columbia set a Canadian record on Sunday for the most medals won a single Pan Pacific Swimming Championship with five. She set the record by winning the silver medal in the women's 200 metre backstroke at the Tokyo Tatsumi International Swimming Center in Japan.
Ruck posted a time of 2:06.41. She was 0.27 seconds behind American gold medalist Kathleen Baker.
During the swim meet, Ruck posted two other podium finishes in individual events. She won the gold medal in the women's 200 metre freestyle and bronze in the women's 100 metre freestyle.
Ruck's other podium finishes came in the freestyle relays. She won a bronze medal with Kayla Sanchez of Ajax, Ontario, Rebecca Smith of Red Deer, Alberta and Alexia Zevnik of LaSalle, Ontario in the women's 4×100 metre freestyle and teamed up with Sanchez, Smith and Mackenzie Paddington of Campbell River, British Columbia to win the bronze medal in the women's 4×200 metre freestyle. In both women's relay freestyle events, Australia won gold and the United States won silver.
Team Canada won three more medals at the Pan Pacifics. Kylie Masse won gold in the women's 100 metre backstroke, Sydney Pickrem of Halifax, Nova Scotia won silver in the women's 200 metre individual medley with a national record time of 2:09.07 and Yuri Kisil of Calgary, Alberta won bronze in the men's 50 metre freestyle. The medals for the Canadian swim team in Tokyo will give them confidence as they prepare for the 2020 Olympic Games in Tokyo.