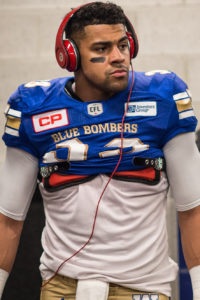 The Winnipeg Blue Bombers moved into a second place tie with the Edmonton Eskimos in the Canadian Football League's Western Division after defeating the Hamilton Tiger-Cats 29-23 on Friday. Two Canadians were instrumental in leading Winnipeg to victory at Investors Group Field in Winnipeg, Manitoba.
Blue Bombers running back Andrew Harris of Winnipeg, Manitoba once again had a strong game offensively on the ground. The CFL's most outstanding Canadian from 2017, Harris had 16 carries for 82 yards and a touchdown. He also led Winnipeg receivers in receptions (four) and yards (46). Harris's touchdown was a three yard run that broke a 7-7 tie at 10:40 of the first quarter and put Winnipeg up 13-7 at the time. It would be a lead the Blue Bombers would not relinquish.
Meanwhile, Blue Bombers wide receiver Nic Demski of Winnipeg, Manitoba also found the end zone. Demski's touchdown was a 37 yard touchdown reception from quarterback Matt Nichols at 8:16 of the third quarter which put Winnipeg up 25-10 at the time. Demski finished the game with two catches for 45 yards and one rushing carry for four yards.
The Blue Bombers and Eskimos are both at five wins and three losses, but the Eskimos hold the tie-breaker after beating Winnipeg 33-30 on opening night. Also in week nine, the Ottawa Redblacks reached double digits in points with 10 to lead the East as they beat the Montreal Alouettes 24-17.