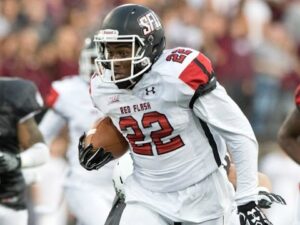 The Saskatchewan Roughriders signed linebacker Lorenzo Jerome of Sunrise, Florida according to Britton Gray of 980 CJME on Thursday. Jerome could be a huge asset for the Roughriders because of his strong versatility. He can play both defensive back or linebacker.
Jerome had his rookie Canadian Football League season with the Calgary Stampeders in 2019. In seven games, he had 11 defensive tackles, six special team tackles and one interception.
Jerome's interception came in a 21-16 Stampeders win over the British Columbia Lions on November 2, 2019. Jerome actually picked off a Brandon Bridge pass for two yards. Bridge, who was nicknamed "Air Canada" was one of the few Canadian quarterbacks in the Canadian Football League over the last few decades. The native of Toronto, Ontario, and product of South Alabama, played in the CFL primarily as a backup quarterback with the Montreal Alouettes, Saskatchewan Roughriders and Lions from 2015 to 2019.
Jerome also had a distinguished career with St. Francis University. He was the Northeast Conference Defensive Rookie of the Year in 2013, and was the first player from St. Francis University to play in the Senior Bowl. In the game, Jerome had two interceptions for 11 yards.
In 2017, Jerome also played four games with the San Francisco 49ers. He had three tackles (two solo tackles and now assisted tackle).