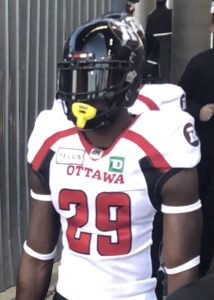 According to the Regina Leader-Post on Saturday, the Saskatchewan Roughriders have signed linebacker Kevin Francis of Toronto, Ontario. Francis is rejoining the Roughriders where he played from 2016 to 2018. In 2019, Francis played with the Ottawa Redblacks. In 2020, Francis had come to terms on a contract with the British Columbia Lions, but never had a chance to play with British Columbia due to coronavirus.
In seven games with the Redblacks in 2019, Francis had eight special teams tackles. He had a season-high three special teams tackles in a 21-16 Redblacks loss to the Edmonton Football Team on September 28, 2019.
In his career, Francis has had 37 special teams tackles and 15 defensive tackles, along with two forced fumbles in 52 games. He had a career-high four special teams tackles in a game during his rookie season of 2016. On September 24, 2016, Francis achieved that mark in a 20-18 Saskatchewan win over the Hamilton Tiger-Cats. Also in his rookie season, Francis set a career-high for most defensive tackles in a game with three, in a 39-36 Roughriders to the Edmonton Football Team on July 8, 2016. Francis's two forced fumbles came in a 33-25 Saskatchewan loss to Edmonton on August 26, 2016, and in a 54-31 Saskatchewan win over Edmonton on August 25, 2017.
Francis played his college football at the University of North Carolina A & T. He was then taken by the Roughriders in the 2016 CFL Supplemental Draft.