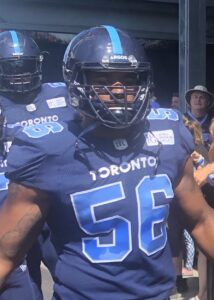 During the Christmas holiday season, the Saskatchewan Roughriders added a player to their defensive corps in signing defensive lineman Freddie Bishop from the Toronto Argonauts according to the Regina Leader-Post on Tuesday. The Roughriders become Bishop's third Canadian Football League team as he has also played with the Calgary Stampeders.
A native of Inkster, Michigan, Bishop had 40 defensive tackles, and six sacks in 18 regular season games for the Argonauts. He had a season-high six tackles in a 38-27 Argonauts loss to the Hamilton Tiger-Cats on September 2, 2019.
Bishop has played 47 career CFL games, and has 95 defensive tackles, two special teams tackles, 20 sacks, and created one forced fumble. The forced fumble Bishop created was on September 18, 2015, in a 35-23 Stampeders win over the British Columbia Lions.
Also with the Stampeders, Bishop won a Grey Cup with Calgary in 2014. At BC Place Stadium in Vancouver, Calgary defeated the Hamilton Tiger-Cats 20-16. Bishop had four defensive tackles, and one sack. Bishop was one of three Stampeders to record a sack in the 2014 Grey Cup. The others were from Corey Mace of Port Moody, British Columbia, and Shawn Lemon.
In addition to his CFL experience, Bishop played his collegiate football with the University of Western Michigan Broncos from 2009 to 2012. In his final season of college of 2012, he was the Broncos most outstanding player as he had 63 tackles, 11.5 tackles for a loss, and four sacks.