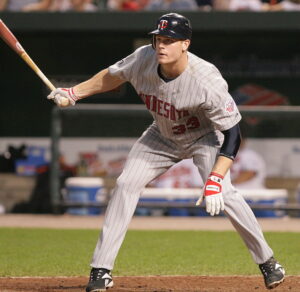 According to the Canadian Baseball Hall of Fame on Thursday, 2006 American League most valuable player Justin Morneau of New Westminster, British Columbia, will be inducted into its museum on June 19, 2021. Morneau will be joined by two former Toronto Blue Jays (first baseman John Olerud and closer Duane Ward) along with Montreal Expos play-by-play radio announcer Jacques Doucet of Montreal, Quebec.
Morneau played 14 seasons of Major League Baseball with the Minnesota Twins, Pittsburgh Pirates, Colorado Rockies and Chicago White Sox from 2003 to 2016 at first base. In 6392 plate appearances, he scored 772 runs, and had 1603 hits, 349 doubles, 23 triples, 247 home runs, 985 runs batted in, five stolen bases, 573 walks, 2739 total bases, 46 times hit by a pitch, and 74 sacrifice flies. Morneau also batted .281 with a .348 on base percentage and a .481 slugging percentage.
In 2006,  the year he was the American League MVP, Morneau batted .321 for the Twins with 34 home runs and 130 runs batted in. He also scored 97 runs, and had 190 hits, 37 doubles, one triple, three stolen bases, 53 walks, an on base percentage of .375, a slugging percentage of .559, 331 total bases, and a Major League leading 11 sacrifice flies. Also that season, Morneau set career-highs in hits, home runs, runs batted in, stolen bases, total bases, and sacrifice flies. In 2014 with the Rockies, Morneau also led the National League with a .319 batting average.
A four-time all-star with the Twins from 2007 to 2010, Morneau won the Lionel Conacher Award, presented to Canada's top athlete. That year he batted .300 with 23 home runs and 129 runs batted in. Also that year, he had career-highs in doubles (47), and walks (76).