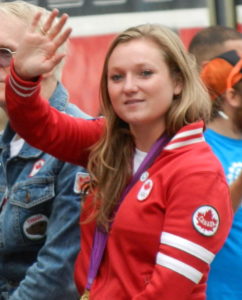 Two-time Canadian Olympic gold medalist Rosie MacLennan of Toronto, Ontario won the bronze medal at the 2019 World Trampoline Championships in Tokyo, Japan on Saturday. This was MacLennan's seventh individual medal in the history of the championships.
MacLennan posted a score of 54.82 points to beat Yanfei Huang of China by 0.11 points. Huang finished in fourth place with 54.71 points. Mori Hikaru of Japan won the gold medal with a score of 55.86 points. Doihata Chisato of Japan won the silver medal with a score of 55.225 points.
MacLennan has now won two gold medals, two silver medals and three bronze medals in women's individual trampoline at the World Trampoline Championships. She won gold in 2013 in Sofia, Bulgaria and in 2018 in St. Petersburg, Russia. MacLennan also won silver in 2011 in Birmingham, England, and in 2014 in Daytona Beach, Florida, United States,and bronze in 2007 in Quebec City, Quebec and in 2010 in Metz, France.
MacLennan now needs to be considered not just as one of Canada's best trampolinists, but one of the best gymnasts in Canadian history. She won gold at the 2012 Olympic Games in London and the 2016 Olympic Games in Rio de Janeiro. Even at the age of 31, MacLennan will be a strong medal contender for Canada at the 2020 Olympic Games in Tokyo.