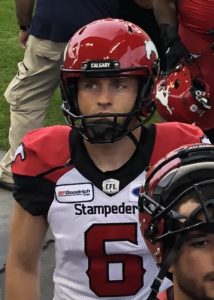 Calgary Stampeders punter Rob Maver of London, Ontario announced his retirement at the age of 33 on Thursday. Maver had played with the Stampeders since the 2010 Canadian Football League regular season.
A product of the University of Guelph, Maver was the Stampeders' first round draft pick, fifth overall, in the 2010 Canadian Football League Draft. While with the Stampeders, he was a CFL All-Star twice (2012 and 2013), a CFL West Division all-star three times (2012, 2013 and 2014) and won two Grey Cups with the Stampeders in 2014 and 2018.
This past season, Maver had 105 punts for 3660 net yards and 4549 gross yards. His longest punt was for 64 yards. Maver averaged 43.3 yards per punt.
In terms of yards per punt, Maver had a career high 46.9 yards per punt during the 2016 CFL season. In 99 punts, he kicked for 4641 gross yards and 3487 net yards. In his 10 years with the Stampeders, Maver had 921 punts for 34 359 net yards and 41 430 gross yards. He averaged 45.0 yards per punt.
Maver had his longest career punt in a 29-8 Stampeders win over the Montreal Alouettes on June 28, 2014. Maver's punt, which went for a single, was 88 yards. Interestingly also during that game, Maver had a 78 yard punt that went for a single.
In addition to being a punter, Maver was also a placekicker with the University of Guelph. At the end of his university football career, he was eighth place all-time in field goals at the Canadian Interuniversity Sport level with 54.